The iPhone 4S launch day has finally come. Huraaaaaay! The U.S. Apple stores have pulled an allnighter to get ready for this much awaited launch.
@ifostore is now waiting and sent the photo at the above link which shows the Apple Store staff getting the iPhone 4S materials and phones ready for the opening.
That is in the U.S., in other parts of the world the iPhone 4S has already been launched. We are receiving updates from Smh.com.au about the launch in Australia so far. We have heard that the line outside the store is filling up the streets as people get in line and wait for their turn.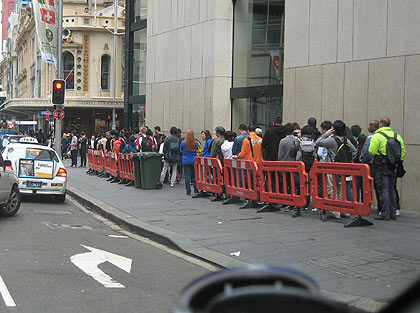 As for the Japanese launch we have seen reports claiming that there has been some problems with the main service provider that i offering the iPhone 4S.
Quoted by the Wall Street Journal:
The launch of the iPhone 4S in Japan was interrupted when Softbank – the main service provider for Apple products in the country—suffered a server glitch that temporarily suspended sales nationwide. A company spokesman said the servers were unable to process registration information.
We go this our memory to last year and remember the iPhone 4 sales which sold 1.7 million units in the opening weekend, but we expect that  by the looks of it the iPhone 4S is going to top that. Analysts are predicting that in the first weekend for the iPhone 4S it will sell 2 million to 4 million units.
U.S. Apple stores were planning to open at 8am according to each local time, and the American iPhone 4S carriers will also be stocking some units in their stores.
Have you got your hands on the iPhone 4S yet?
Via macrumors